Our StrongStart facilitator is absent today and therefore StrongStart is closed for Monday, March 14.
Yesterday (March 10), the Provincial Government announced some changes to public health requirements.
How will these changes affect Sooke School District schools and sites?
When we return from spring break on Monday, April 4, 2022 mask wearing will be optional for all students, staff and visitors. All students, staff and visitors must continue to wear masks at our schools and sites until this time as per the Provincial COVID-19 Communicable Disease Guidelines for K-12 Settings.
We continue to follow the Feb. 17, 2022 version of the SD62 Communicable Disease Prevention Plan.
We acknowledge this has been challenging and stressful for everyone. We ask for patience and compassion as we continue with our current measures until spring break and then when we return, continued understanding that comfort level with the new guidelines will vary among all of our community members.
If you wish to review further, please see the Provincial COVID-19 Communicable Disease Guidelines for K-12 Settings.  Provincial COVID-19 Communicable Disease Guidelines for K-12 Settings.
If you have not yet picked up your child(ren)'s Rapid Antigen Test you need to contact the Millstream office at millstream@sd62.bc.ca to make arrangements to pick up the test kit.
If you do not want the test kit, the province requires that you let us know.  Thanks in advance for doing so.
Rapid Antigen Tests will be distributed to parents/guardians from 2:15 to 3 pm today.  This is the last distribution time.  If you are unable to pick up your child(ren)'s test today, please contact the school at millstream@sd62.bc.ca to make alternate arrangements.
Thank you for dropping off your bottles/cans today from 10 am to 1 pm to support the Millstream PAC.
February is Black History Month where people across Canada participate in events that honour the legacy of Black Canadians and their communities. Recognizing the daily contribution that Black Canadians make to Canada, the 2022 theme for Black History Month is: "February and Forever: Celebrating Black History today and every day."
Here at Millstream, our classes have participated in various activities with the support of resources from our library and the District Resource Center.  In our downstairs hallway, we have a display to honour the remarkable achievements of individuals such as Maya Angelou, Simone Biles, Dr. Martin Luther King, Colin Kaepernick, and Dr. Kizzmekia S. Corbett to name just a few.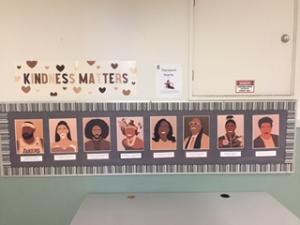 Here is the link to this evening's PAC (Parent) meeting.
https://teams.microsoft.com/l/meetup-join/19%3ameeting_ZDgzYzQ1MTEtNGFhNS00MTNmLWE0ZjMtYWY3NDcwOTFjM2E5%40thread.v2/0?context=%7b%22Tid%22%3a%22f7c5b01f-413e-4ee8-9788-ce578108cd30%22%2c%22Oid%22%3a%2292809954-66e3-451f-b0c0-a34afc2d62e0%22%7d
Our scheduled hot lunch on Friday Feb. 25th is a GO! QF Chinese Food and Cobb's Bakery. Ordering is open on Munchalunch.com until this Fri. Feb. 18th.
The StrongStart program has been canceled today, Friday, February 11th.