Strong Start will be closed Thursday and Friday (Nov 17 & 18th)
Sorry for the inconveince.
The Boys and Girls Club is offering a series of online programs helping parents of teens, pre-teens, and children gain confidence, discover practical tips and resources, and find support from other parents.
Parenting Without Power Struggles Thursdays For Parents with Kids age 9-12 – 6:30-8PM -10-12 weeks
Alumni Thursdays Ongoing Drop in All Ages – 12-1 PM
For more information visit BGCVIC and/or contact parentingprograms@bgcvic.org, or 250-686-9122.
Students will be dismissed early on Thursday, November 24th (11:38 AM).  Parent-teacher interviews will be held from 1:00 to 6:00 PM on this same day.  Please plan to book and attend an interview for each of your children.  Booking information will be sent out on Monday.
Next week, our annual Fall Scholastic Book Fair will be in full swing in our school library. The Book Fair is open Tuesday, Wednesday and Thursday from 8:30 am to 3 pm Nov. 15-17. Flyers are going home this week. Students can shop in-person or families may choose to shop online
A digital copy of the flyer can be found here https://www.scholastic.ca/bookfairs/resources/img/BF_JRNews_F22.pdf
Feel free to contact Mme Diane Tanner if you would like to help during the fair.
This evening's PAC Meeting will be on-line only.  The meeting begins at 7:30 PM.  We hope that parents will take time to attend as their participation and input is valuable.
Link for November 8th PAC meeting
Hands-on nature lesson for kids: Hands-on nature lesson for kids – Times Colonist – October 2022
Thank you so much to our parent volunteers – Kim Guiry, Michelle Paleczny, and Rosy Hartman – as well as Kristen Miskelly and Abby Hyde from Satinflower Nurseries for all of their help with learning about and planting our natural meadow yesterday.  Thank you also to parent Colin Eaton for donating mulch to our project.  Finally, we want to acknowledge the City of Langford and Habitat Conservation Trust.   Below are some links to media coverage of the event:
https://islandsocialtrends.ca/school-planting-project-beautifies-langford-city-boulevard/
https://islandsocialtrends.ca/category/sections/social-trends/food-security/
Our StrongStart program is closed today, Monday, October 24th.  We apologize for the inconvenience.
Dear Parents/Guardians,
The PAC has generously donated the Ziplock bags for your child's comfort kit.
These have a label space on them for your child's name.
Please do not put the grade or teachers name on the bag so that these can be re-used for the following year.
Childs Last name, First name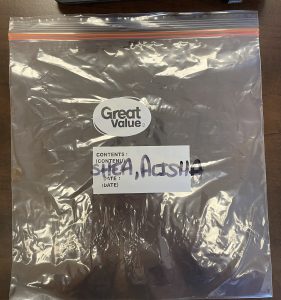 If you have already brought the comfort kit to school please still put your child's name on the bag and hand back to the teacher. All kits will be transferred to these bags.
The lost and found will be outside today at 2:15 PM.
Thank you,
The Millstream Team
The photographers will be at the school on Monday, October 3 for our individual staff and student photo day.