Millstream Hot Lunch Program 2021/22
At long last, the Millstream Hot Lunch program is ready to launch!  Protocols have been developed
to allow for a safe hot lunch program and delivery process this year.
The hot lunch program offers many benefits to the Millstream school community:
It's a valuable PAC fundraiser, funding important initiatives for your kids
It offers tasty food, and kids love it!
It supports local restaurants, who need our support more than ever
Best of all, it offers a much appreciated lunch-making break for parents 🙂
Upcoming Hot Lunch Dates:
Upcoming Hot Lunch Dates:
Friday Sept. 24th – Boston Pizza (Orders close Friday Sept 17th 10pm)
Friday Oct. 15th – Royal Bay Bakery (Orders close Friday Oct. 8th 10pm)
Friday Nov. 26th – Sushi & Cobbs Bakery (Orders close Friday Nov. 19th 10pm)
How to Order:
Our ordering system is GREEN!  Instead of filling out a paper order form, parents order hot lunch online using MunchaLunch.com! You pay for your orders online by credit card (Visa/Mastercard).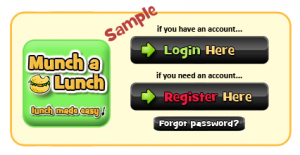 HOW TO REGISTER:
1) Go to: https://www.munchalunch.com/schools/millstream. The link is also on Millstream website.
2) Click the "Register Here" button (as shown below). The system will guide you through.
3) After adding your children, click the green "Order Lunch!" button to order.
4) Next time, just click the "Login Here" button to access your account.
If you need assistance with ordering, or have questions, please contact:
Amanda Dumitru @ 250-216-6578, mandi133@hotmail.com.
Please note: Consistent with previous years, there are NO REFUNDS as this is a PAC fundraiser.  And, due to visitor restrictions at the school this year, if your child is ill on a lunch date, unfortunately there will not be an option to pick up their lunch.  Please consider any missed lunches a PAC donation.
We are always in need of Volunteers to help with hot lunch day distribution!  If you are interested, please contact Katie Bate, Hot Lunch Distribution Coordinator, @ katielbate@gmail.com.  For more information, please see the hot lunch volunteer information on the Millstream website.
Our thanks to the Millstream parent community for supporting this important fundraiser, and to our wonderful Volunteers who help make this program a success!