Many of our classes are participating in Take Me Outside Day tomorrow, October 23.  Please make sure that your child(ren) is dressed for the weather.
The Halloween Howl Dance that is being organized by PAC is on Monday, October 28th.
There is no school this coming Friday, October 25th as this is a Professional Development Day for teachers.
Voting will take place at the Millstream gym all day on Monday, October 21.  Parking at drop off and pick up will be especially busy for this reason.  Please consider walking or riding a bike to and from school or leaving yourself more time to drop off or pick up with a car.  Thanks.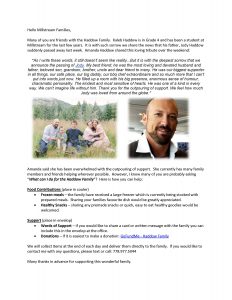 Please use this link if you wish to make a donation on the Go Fund Me page:
https://www.gofundme.com/f/tragic-sudden-passing-of-jody-haddow?pc=fb_co_campmgmtbnr_w&rcid=r01-157116646065-ee1389ce3a8b4280&utm_source=facebook&utm_medium=social&utm_campaign=p_lico%2Bbanner&fbclid=IwAR3rOCuFK6QNB2DY2CSG7mc4tbSIFfCPIpVHKjrDR2-qI7TxhJE4MW9mK9s
Early voting is taking place in the Millstream School gym tomorrow, Friday October 11th.  Thank you for your patience regarding parking at drop off and pick up.
Phone lines are fixed, thanks for your patience.
Our school is participating in the 2019 Walk & Wheel to School Week from October 7 – 11.  We will be celebrating active travel all week!  Students who walk or wheel (bike, scoot or skate etc.) all or part way to/from school, will get a sticker to put on our school trip-tracking poster in the front, office area hallway.
For more information about the campaign visit www.crd.bc.ca/walkwheel
Dear Students, Parents and Staff at Millstream,
For the past 21 years, Tour de Rock has been raising funds to support pediatric cancer research and Camp Goodtimes. Over that time, over $25 million dollars has been raised thanks to the ongoing support and dedication of schools like Millstream. This event has become the largest community event on Vancouver Island and creates an incredible impact on the lives of Island families who are faced with the unimaginable – a cancer diagnosis.
As you know, the Tour was scheduled to visit your school this week. Unfortunately though, due to a significant oversight by our team, the stop at Millstream was not scheduled accordingly. I would like to personally apologize for this error as I know you all had been working very hard to prepare for our arrival. We are however working with Mrs. Krusekopf to schedule a very special visit specifically for you once the Tour officially wraps up on October 4th. More details will be released once we have a confirmed date and time, but our commitment is to recognize your efforts and bring the Tour to you as we know how hard you have worked to support our mission. Again, please accept our apologies for this oversight. Our team has already included Millstream into our 2020 planning document so that this does not happen again.
Thank you so much for your understanding and commitment to the Tour! We are all in it #forthekids and appreciate your support.
Many thanks,
-Tiffany
Tiffany McFadyen
Community Manager, Vancouver Island
Canadian Cancer Society
Email tiffany.mcfadyen@cancer.ca
Photo day is tomorrow, October 1.  Individual photos will be taken of staff and students.
Orange Shirt Day is a national movement in Canada for Indigenous and non-Indigenous people to come together in the spirit of hope and reconciliation to honour former residential school students whose families and communities have been impacted by the policies and actions of the Government of Canada and the churches that operated the schools.
Students are asked to please wear an orange shirt to show their support of residential school survivors.
Orange Shirt Day began in Williams Lake, BC in 2013 at the St. Joseph Mission (SJM) residential school commemoration event and has since spread across the country. The name Orange Shirt Day honours survivor Phyllis Webstad's story of having her shiny new orange shirt taken away from her on her first day of school at the Mission.
The date of the annual event was chosen because it is the time of year that children were removed from their families and forced to attend residential schools. Orange Shirt Day inspires Canadians to initiate anti-racism and anti-bullying initiatives in schools and the workplace.
The residential school era began in the early 1870's, with the last school closing in 1996. More than 150,000 Indigenous, Métis and Inuit children attended these schools, with an estimated 80,000 survivors living today.
For more information please visit the website http://www.orangeshirtday.org/